Behaviours that drive our Business Growth
The HMEL organisational culture inspires our people to continuously strive for excellence, personally as well as professionally, and is aligned to our long-term business goals and vision. It is fuelled by our people's passion to perform to peak potential and proactively contribute to HMEL's success.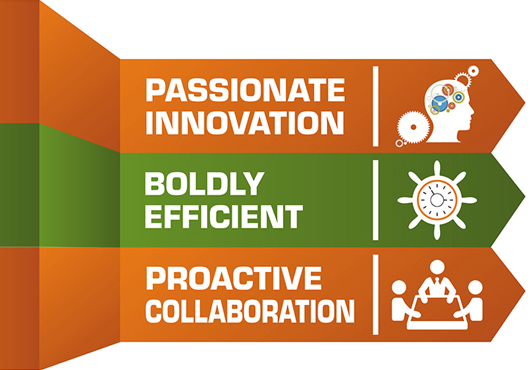 We promote a set of three key behaviours that are an integral part of our organisational DNA and drive excellence and performance-orientation at HMEL:
Passionate Innovation: DARE TO CHALLENGE THE CONVENTION
Think Out of the Box : Explores new approaches while solving a problem
Invites Ideas from All Corners : Welcomes multiple and diverse views for creation of new ideas
Detail Orientation : Examines all potential options and evaluates them before arriving at final solution
Continuous Improvement : Continuously strives to improve and streamline systems and processes
Achievement Drive : Pursues excellence in accomplishing goals and exceeds high standard of success
Risk Taking Behavior : Initiates action despite uncertainty of outcome and is comfortable with failure within acceptable limits
Boldly Efficient: PASSION TO RISE ABOVE MEDIOCRITY
Work Prioritization : Prioritizes tasks based on criticality, monitors deviations and adjusts priorities as required
Result Orientation : Takes advantage of available resources to achieve challenging results within timelines
Challenge Status Quo : Challenges assumptions in the way problems or situations are defined and is not constrained by other's thoughts
Decision Making : Takes tough trade-off decisions in order to achieve organizational objectives
Meeting Discipline : Establishes clear purpose of meetings, helps to close discussions with clear summaries and establishes follow-up mechanisms
Cost Awareness : Displays good understanding of cost drivers, makes others aware and searches for ways to reduce costs
Proactive Collaboration: COME TOGETHER FOR ENERGISING A BRIGHTER TOMORROW
Co-create and Resolve Conflict : Resolves conflicts and pushes for co-creation to ensure value addition for all stakeholders
Effective Interpersonal Relationships : Takes initiative to establish good relationships by valuing, appreciating and including others
Team Orientation : Places higher priority on team or organization goals and acknowledges others' contribution.
Knowledge Sharing : Nominates self to share knowledge with others
Looking Beyond Silos : Takes initiative to work in multi-disciplinary teams to solve organizational problems
Environment of Constructive Feedback : Open to giving and receiving constructive feedback
The ultimate objective, of course, is to ensure that HMEL retains its edge in today's competitive marketplace and is equipped to meet future challenges head on.